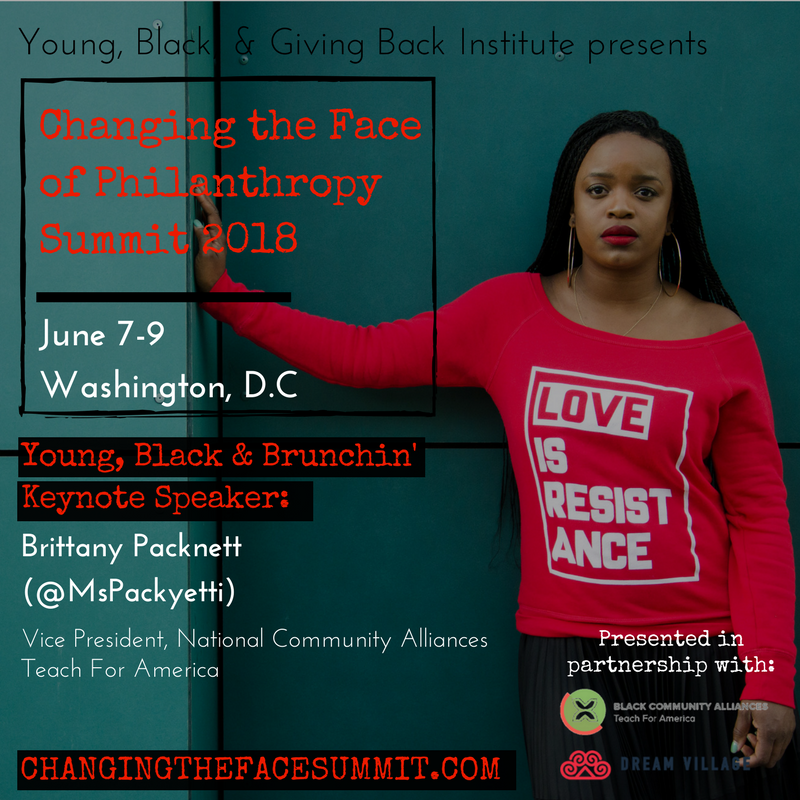 ---
Top Five Reasons Not to Miss Changing the Face of Philanthropy Summit 2018
The wait is almost over for Changing the Face of Philanthropy Summit 2018! Over the course of two and 1/2 days in Washington, D.C., our summit will help young, black professionals develop the skills needed to lead community problem solving across the country. Our theme this year is: "Our Time is Now! Activating Our Power Through Black Civic Engagement and Philanthropy."
Young, black leaders have reignited the movement for equality in the United States. In order to make sure that movement is sustainable and effective, we need leaders with a top-notch understanding of fundraising, nonprofit management, alliance building, campaign organizing, political leadership and so much more. The Changing the Face of Philanthropy Summit helps emerging black philanthropists and civic leaders sharpen their skills and get prepared for the next level of leadership.
Are you ready?
Here are our top five reasons why you can't miss the Changing the Face of Philanthropy Summit 2018!
#5. You Will Reignite Your Passion: Change takes time. It's common to hit a wall in motivation when you're giving your all to a social justice cause, but not always seeing the results you envision. Hearing others discuss their challenges and successes will give you the inspiration needed to keep going.
#4. You Will Feel Less Alone: In your day-to-day work, do you find yourself one of a few black faces sitting at a board table or attending a community meeting? The Changing the Face of Philanthropy Summit was created specifically to carve out a space for young, black professionals working in philanthropy or civic leadership to meet each other, break bread and share resources. Take a break from feeling isolated, and join a cohort of young, black leaders that you can turn to long after the summit is over.
#3. You Can Make A Plan: Sometimes when you're in the middle of the daily grind, it's hard to stop and think strategically about your own professional development or the development of your social cause efforts. The Changing the Face of Philanthropy Summit is a great time to pause your routine and think deeply about your work.
#2. You Will Find a New Partnership: When we hear each other's stories, we build connections that turn into partnerships. You might need help with program ideas, outreach, fundraising or staying focused on your goal. We bet you'll find the right partner at the Changing the Face of Philanthropy Summit…but you won't meet them if you don't show up.
#1. You Will Have Fun: Simply put, we don't do boring. We don't do stuffy. We don't do dull. We have fun while we work. We laugh…a lot! We enjoy libations after a long day. We relieve stress with morning yoga. And we end on Saturday early enough for you to enjoy your weekend in Washington, D.C. (Turn up encouraged).
Check out our agenda and speaker line up, and register – quickly before all the good seats are taken!